"Open Node in a Bag" - Range Tests Map
Return to main article | Read other articles
Wireless and Satellite Internet Services at wireless.psand.net.
The map below shows the position of the various points used for testing the different antenna attachments used in the "Open Node in a Bag" kit. The blue dot represents the position of the base station and antenna, at an elevation of roughly twenty metres above street level, and the red numbered dots the various testing points at horizontal distances of 0, 75, 200, 350 and 450 metres from the base station respectively.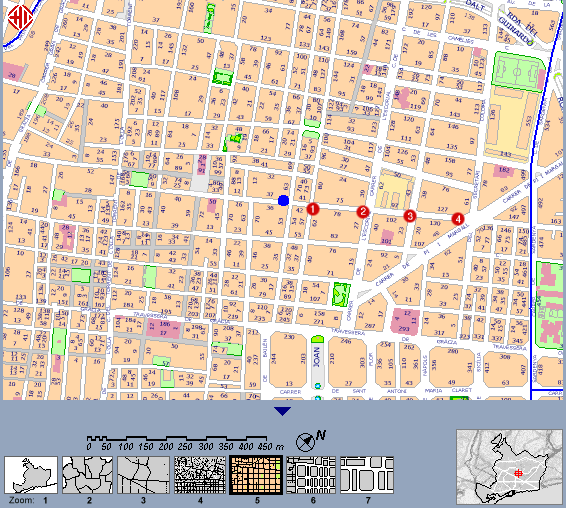 Map of area used for outdoor range tests.
Return to main article | Read other articles
Wireless and Satellite Internet Services at wireless.psand.net.
---
Concept: Mike Harris & Dave Gough
Author: Mike Harris
Copyright (c) 2003 Psand Limited. Permission is granted to copy, distributed and/or modify this document under the terms of the GNU Free Documentation License, Version 1.1 or any later version published by the Free Software Foundation; with no Invariant Sections, with no Front-Cover Texts, and with no Back-Cover Texts. A copy of the license is included in the section entitled "GNU Free Documentation License".
Apple, Apple Airport, Airport Extreme, Mac, Macintosh, OS X etc are trademarks of Apple Computer Corporation. Tupperware is a trademark of Tupperware Corporation. Linux is a trademark of Linus Torvalds. All other trademarks are those of their respective trademark holders.